August 7th, 2005
---
01:18 pm - This says it all..........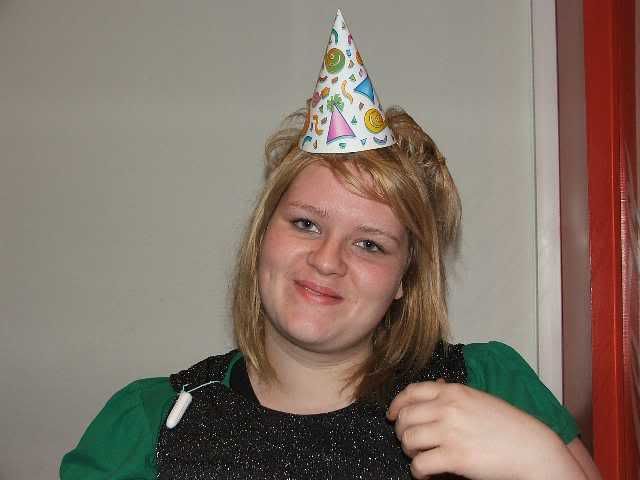 Its 5pm on Sunday and we still haven't been home. The lovely shot above is an upto the minute update of us sitting in global gossip. I'm beginning to wonder why i didn't apply for a job here.........

Last night we went out for a lovely dinner (you would honestly think we had money the way we get on, but as i said to the man in the bottle shop last night- 'No, i actually don't have any money left, but i have a card..........) Its the last few weeks and i've been reasonably good throughout, so a wee splurge won't hurt anyone.....hopefully? I'm beginning to understand Deans last minute NYC shopping spree in Guess jeans, you become a bit desperate as it goes down to last days and reality is imminent, so you don't really give a damn, 'i'll be eating beans and going on a detox back home, etc etc, like thats going to happen but anyway, it makes us feel good to pretend........

*Kelly is currently talking to one of her regular customers, completely straight faced, whilst wearing the party hat and the tampon. I wish i hadn't left my hat in Leilas!!!!

Continuing on, after dinner we came home and drank wine with Adam, Kelly decided to BE Adam.....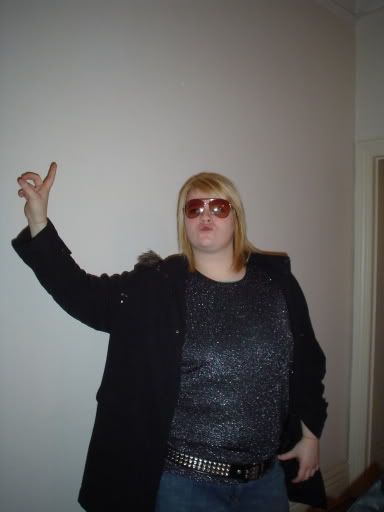 Adam's like the big brother we never had.......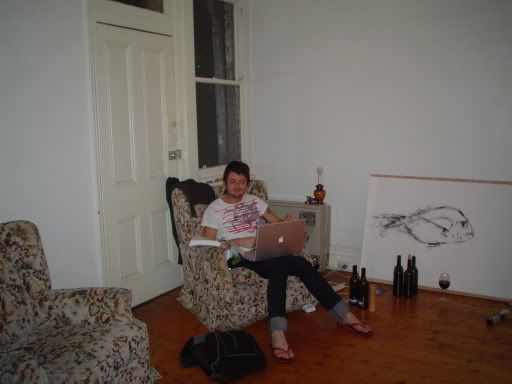 After that Kel went to a party with Leila, and i headed down to meet my friends from my old job at Zinc.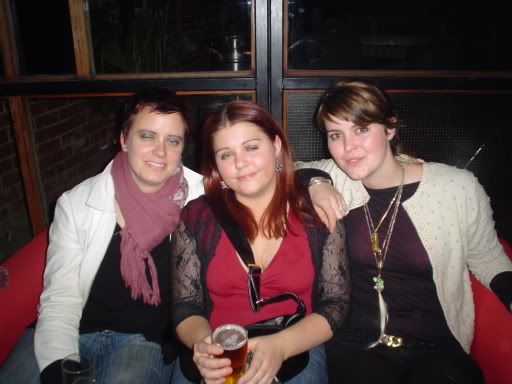 Gorgeous photo here, although its nice to see that i'm not the only one who can't keep their eyes open in pics!

After a few too many 'pots of Carlton Draught, g'day' i tried to find the party, and because taxi drivers here are shit, i got there through pure luck and the directions of the lovely Leila (here dressed as trashy, because it was a 'dress as something beginning with 'T' themed party.)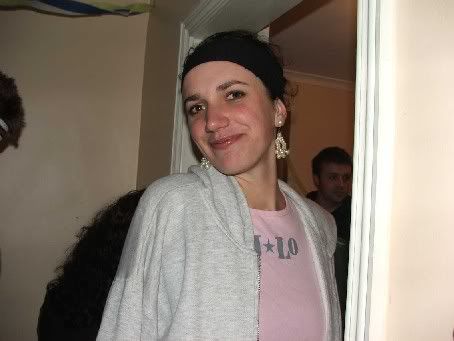 Kellys outfit was a bit last minute and luckily some inspiration hit her in the feminine hygiene aisle of Safeways.... Tampons/Guiness hat/Australian hat with tampons for corks?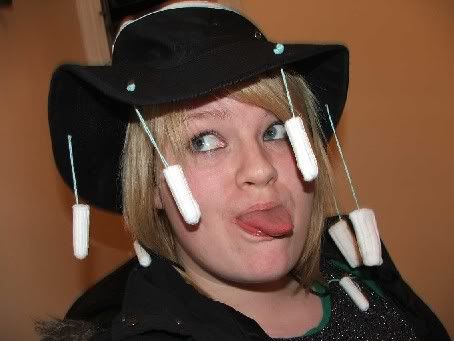 This one because i think its funny, here we have 'Tampon girl' with 'Transvestite man'......... feeling up his fake boobs created using water balloons, sellotape and plastic.........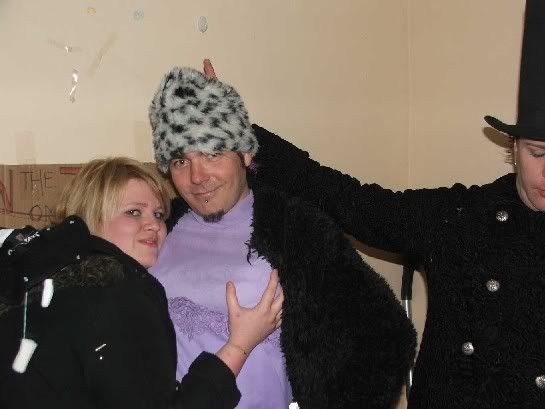 Back to Leilas, somehow having acquired party hats and bright red lipstick, we slept for 3 hours and then left with Leila cause she had to go to work. Instead of going home to die we decided to be strong and 'do' the Vic Markets, ie collect more souvenir shit for the Australia shrine we're gonna make when we get back home.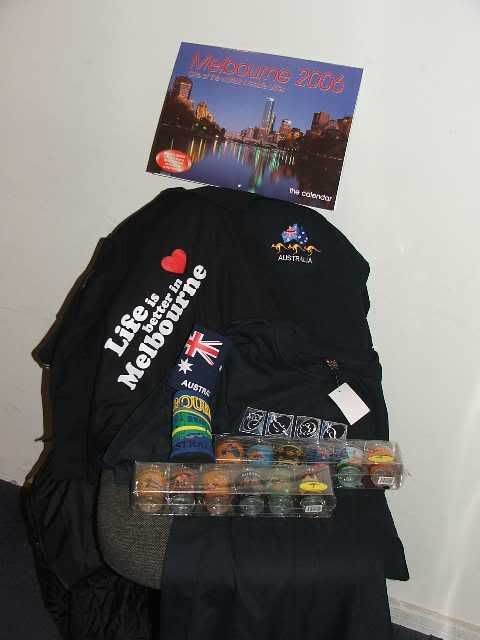 And so, here we are..... i think i need to get some sleep! We just went to the Rose Garden (our fav chinese across the road) during the course of this update so really have to get home and probably buy some wine......
Current Mood:
tired
Current Music: Weezer

July 31st, 2005
---
09:55 pm - Last DV8........
I'm leaving Melbourne in two weeks, and i'm preparing myself for a whole fortnight of 'lasts'. Last night was the last DV8, the underground club down a lane in a dodgy nightclub where we danced to the 80's, 'Rio de Janeiro metal', the chemical brothers and watched a bad heavy metal band. Every time we go we seem to meet really nice but crazy people, it reminds me very much of the Cathouse in Glasgow and all the associated good memories that go with it. We got invited to a goth fashion show and coffin display, i would so be up for going to that for the craic but i think i'll be gone........ I'm also going to be missing a party on the 19th but if i keep putting off leaving because of social occasions i'm never going to actually leave....... Its going to be bad whenever, but at least i'll be here for Kellys birthday and we're going to do cool stuff like go to Phillip island and ski and whatever, i'm just thinking positive thoughts, happy thoughts......

I can't wait to get home and hug my dog, eat an Ulster fry, drink a pint of Magners, see family and friends and catch up with whats been going on. I think i'm also going to have to wait till i get home so i can talk to Dean, he is virtually uncontactable and i miss him. In the midst of the 80's last night they played Gwen Stefani and although im very over that song me and Kelly clutched each other and repeated 'i misssss himmmmm' over and over, then tried to call him with again no success.

I think we're going to Neighbours night tomorrow, Harold, Toadie and Doctor Karls band.... I haven't followed Neighbours since i was 13, but i am quite looking forward to it....tho i don't think anything will top Kelly's story of meeting Doctor Darcy in the Espy, the thought of it just cracks me up, we'll have to make sure not to poke any stars in the kidney tomoro night, can't leave Australia without doing the whole neighbours thing properly so we can't get kicked out........
Current Mood:
chipper

July 25th, 2005
---
07:20 pm
I'm kinda annoyed about being cameraless at the moment, even though i've been recording quite a bit of stuff on my video camera. What we are going to do with the tapes i don't know, although me and Kelly watched some of it back the other night and laughed until we cried. I want to know how to edit it because i'm going to make Karim a dvd and send it to her, shes leaving on Wednesday:(
We are going to miss her so much, although i really hope to see her either in Belfast or in London very soon.

We're really enjoying living with Adam, hes such a cool guy and i love old houses with character although it is freezing.... and we have mice...Adam went to Safeways today and bought noodles, rat poison, and a knife sharpener, he got a few funny looks..... We had a lovely night on Saturday, all together, working our way through a few bottles of wine and watching Legally Blonde 2, god love us. I'm also loving the fact that hes working for an internet sex text line to earn some extra cash, by day hes a trainee primary school teacher and by night 'buxom blonde middle aged housewife', it kills me......

Can't believe my mum and dad are going to be in New York next week......i'm still in Melbourne.... kinda starting to look forward to travelling on, although leaving is going to be sad no matter what. I'm getting excited about Fiji, i've been looking into all the things you can do there because i'm not really into lying on a beach for a whole week. So its gonna be sking, and then Fiji, hopefully not with two broken legs although i'm up for giving the sking a go, and trusting Kelly not to let me die...... Can't believe i'm missing all the nice weather at home, so the only thing to do seems to be embrace winter sports....
Current Mood: awake

July 2nd, 2005
---
06:27 pm - Decisions...
The last few days a few things have been resolved, which i'm pleased about. We found a new place to live in St Kilda, its not the penthouse but its the best i've seen of all the others we've looked at. At the moment we're living in a hostel in a little box like room, surrounded by all our stuff with no room to move. We really have so much stuff, god knows whats going to happen to it all!

I also sorted out my flights, so i'm staying in Melbourne until the 21st of August, going to Fiji for a week and then America, hoping to get to L.A, San Francisco and New York....... Back in Belfast on the 9th of September, trying not to give myself time to think about 'things' before i start Queens. Its not that i really don't want to come home, just don't know how i'll find it after being away for quite a while.

Tonight we're headed to my friends birthday party on Brunswick street, am looking forward to getting drunk and forgetting the fact that i'm broke and lost my ATM card this afternoon.......not with it today at all...
Current Mood:
ditzy

June 19th, 2005
---
08:01 pm - Stuff....some pics....mexican hip hop....sorry the pics are so huge!
My mum is posting me out a huge box of stuff, clothes, cds, dvds........ its not actually that much stuff but just seems like a lot because i don't really have much stuff at the moment.. I'd forgotten half the stuff i actually have, don't know what i used to do with it all!!!!!

Tomorrow we have to start looking for a new place to live, my friend Hamish and his boyfriend Eric might be moving in with us, it would be hilarious because they have an 'open' relationship and K got very excited at the prospect of having loads of gay men in the house:P

Anyway, last night we went to a party in North Fitzroy, my first hip hop party and i think my first proper Melbourne house party - hopefully not my last because it was soooo good!

Photos..........



(

Read more...Collapse

)


Current Mood: busy

June 15th, 2005
---
06:04 pm - Pure madness................
I feel like a massive weight has been lifted off my shoulders, which is telling me that i've probably made the right decision. The last week or so i've had a lot of stuff on my mind, mainly about the future and leaving here and home. I was starting to get really down about leaving Melbourne, because i feel so settled here and i've just completely fallen in love with the place. I went into work for a drink on Friday night and then went to this really cool place just off Brunswick street with Hamish and Leni. There was a huge band playing this kinda jazz/funk/ska/don't know how to describe it music, everyone was just dancing madly and jumping around and having a good time. Thats the thing about here, every day theres something different to do and anything goes, no matter what you want to do it seems like its here in Melbourne. Today i got a tram and got lost and ended up in this full Vietnamese quarter that i'd never ever heard of before. I'm probably not explaining it all very well but basically at the moment i'm very happy, and i don't know why i'm forcing myself to leave when things are going so well. So i've decided not to go.

I only have a visa until November and theres sooooo many things we have to sort out in the next few weeks but i can just feel thats it the right choice. I may or may not stay until the visa runs out, just depends on how i feel. The thing that really clinched it for me was speaking to my parents and them reacting pretty differently to what i expected. They basically just told me to do what i wanted and they'd support me, uni will still be there in the future if thats what you want and so on. I wasn't exactly surprised but i didn't expect them to be quite so 'ok' about it, it made me realise that although they miss me they have their own lives and i have to do what i want with mine. I still miss people and thats the thing that gets me down sometimes, but i realise when i speak to friends that they have their own lives too, everyone has moved on since school but in different ways.

So yea, its a bit crazy but i'm wandering around with a big grin most of the time so its all good. I have absolutely no idea where it'll all go from here but i don't think i've ever felt as ok about that as i do now. Kelly thinks she'll stick around for another two months and Karim is staying till after her birthday, we're gonna have her 30th in Melbourne which will be good:)

Don't really know what else to say about it, just that i never in a million years expected to be doing this. It just shows you............
Current Mood:
happy

June 2nd, 2005
---
06:58 pm - I love Germans...............
I am so glad Germany and Ireland are nice and close to each other..... and we have cheap flights...... I ended up staying at work today for 4 hours after i finished, talking, eating soup and drinking wine. Tomorrow have to try not to conduct so much of the conversation in German as it is a bit antisocial, well basically Christian talks and i listen and laugh and occasionally write stuff down:/ He came back to the apartment for a while and we were speaking German with our flatmate Sia, especially liked the bit where they swopped fluffy 'pimp jackets' and he loved it but decided it was 'too gay'. Work is going pretty well at the mo, only have my full time hours for another week and then Sandro comes back..... mixed feelings about that because i love Sandro but kinda like doing the job...

This week i have hardly been at home, which works for me because i've hardly seen Rochelle......the girl is a nightmare......Kel managed to go 4 days without speaking to her, which she was pretty proud of:/ On Saturday i went to the market, got really drunk, crashed on Hamish' sofa, met his dad whilst wearing his tracksuit bottoms and gorgeous sticking up hair....then nearly boaked on the 5min walk from the station home. It was officially 'The worst hangover since Harthor' which is saying something, altho i didn't boak, just nearly....

We are going home to make thai curry, i shall update properly soon.........

May 28th, 2005
---
08:51 pm - Does Kelly ever do any work?????????
We are currently sitting in Global Gossip drinking tins of Jack Daniels and coke.... this is how she supposedly earns a living??? lol

kelly "in answer to your question ....nah....i just cram it all in in the last 30 mins..fabulous"

I'm just killing some time before heading down to Commercial road to meet Hamish, the chef from work...... its his boyfriends birthday so we're going to The Market. I'm in the mood to get really drunk, we've just started this new thing at work were we get half price alcohol and have our own tab, payable every Monday..... this could be dangerous, as Monday is usually the day when we contemplate living on carrots and mushrooms till pay day...

A new guy has just started working for Hamish as a kitchen hand, hes German and gay and his name is Christian, and i absolutely adore him, even though he is a bit of a drama queen. We speak German a good bit of the time, i understand everything he says which is encouraging, just need to work on my speaking and the grammar and stuff. He is so patient with me though, i asked him a question the other day and he wrote me out a full page explaining this verb, bless, i know i'm a geek but i've come to accept that........ i'm proud of my love for the library, in fact I currently have a huge German dictionary out on loan...lol.

It is so cold here at the moment, me and Kelly went to St Kilda today and it was a bit like being in Portrush when its cold.... We initially went to see a session of the St Kilda film festival thats on at the moment, showcasing the top 100 Australian short films. Because we're shit at getting up we were late, so we're going back tomorrow. We got ice cream instead and sat huddled on a bench, absolutely fucking freezing with big coats etc on, then went to the crown for thai food, chilli beef to warm me up...yum.

I'm starting to look forward to coming home, we're sorting out our flights and trying to plan the trip, looks like Karim is coming to New Zealand with us.... Starting to realise i've become quite attached to the people we live with, Karim obviously and definitely Cia and Rick. Was loving the conversation this morning at 4am with Cia, regarding what she should dress up as for fantasy night at Bar 20... Kelly had lots of ideas the dirty bitch! We kinda wish Helen was back, the new girl Rochelle is a bit of a headcase, sooo noisy and keeps having sex really loudly...... Kel decided to wake me up 6am the other morning to inform me of this fact... her heart is in the right place but shes just hard work to live with...... plus we do love the Sweedish. I loved Kellys Swedish friends Yani and Linda, Kelly stole a glass from this bar the other night and Yani shreiked really loudly and Swedishly 'ahhhh you stole the fucking glass, ahhhhh' we nearly died, i thought they were brilliant.....

Just a month left in Melbourne, so we're planning the things we still have to do here. I'm going to sort out my camera situation next week, so many things i want to take photos of and people i want to remember.....almost want to make a list of people i'm going to photograph, so i can look back and remember daft little things.... emo emo.....

Soooo, next week, Idlewild, Aboriginal art museums, work and comedy........ We miss Dean, if you're reading this.... we love you..... also can't wait for a reunion of the hardcore... other things i miss include my bed and my dog.... we got lost in a park yesterday and saw really cute dogs, i thought K was going to try to kidnap them... anyway i've been writing this for ages so going to head up and get the tram to Commercial road, loving the JD in a tin, hoping Sean will be at the Market so i get free booze...... i'm having a very Irish week.......gotta live up the reputation i guess......
Current Mood: tipsy
Current Music: Incubus, always reminds me of Maaaaaaa

April 16th, 2005
---
07:45 pm - Melbourne photos.......
Some photos of what we've been up to in the last few months...



(

Read more...Collapse

)




I got some of my birthday on Helen and Cia's cameras, although we weren't allowed to photograph 'the penis' lol. It was an experience, most of it was actually pretty hilarious, Kel went to meet the guys afterwards and told how much she had been looking forward to it, and got a signed program....after they had washed their hands...lol.....it sounds so disgusting....i suppose it was..

Anyway hopefully more pics to follow soon, maybe the camera situation will improve....:)
Current Mood: accomplished

April 12th, 2005
---
06:47 pm - I love the library.......
We absolutely love it because of the free internet, books, cds, dvds, magazines, newspapers... which is why i'm spending my Tuesday evening in the social hub that is the Melbourne city library....lol.

Anyway recently i've been working quite a bit, on Friday i got roped into pitching special offer Guinness to people in the bar, it was moderately successful and helped me empathise with Kel and Dean and their phone selling..... luckily i wasn't getting paid on commission:) Speaking of that Dean, if you're reading this please get in touch, we're getting a bit worried about you!

We went to see the Frames in the Prince of Wales, which was soooo good. We were actually quite emotional at one stage, it felt quite like home because there was hardly anyone Australian there..... Made us both realise that we miss going to gigs, i mean i knew that i missed it but didnt realise i did quite so much..... Speaking of music, i bought a guitar ( all this drinking after the lunch shift does bad things to my willpower), we're planning on busking when we can play something.....anything... that isn't Elvis or the Beatles.... lol.

Its my birthday on Thursday, so we're heading out for Thai food and then to see Puppetry of the Penis (don't ask), apparently it is what it sounds like, although Kelly has assured me there will be a storyline and not just men contorting their bits into strange shapes. Guess whose idea that one was.... although i agreed to go along with it because, like everything else, it'll be 'an experience'.

We'll take photos, although it may be with a disposable because both our cameras are broken, Kellys has been declared dead but i'm hoping that mine is still for this world *looks hopeful* I actually have a full memory card full of random photos that i'll put up soon, including pics of random fancy dress men in St Kilda and mine and Kellys scarves.......we've started to knit these motherfuckers of scarves, i just laughed out loud in the library, i think you'd maybe have to see the pictures to understand......

Anyway i'm going to get some dinner, cause i'm starving, i'll update again soon as long as i get a comment from at least one member of the hardcore that isn't Kelly. You know who you are.........
Current Mood:
hungry